CROSBY RAVENSWORTH PINFOLD
near Shap (NY 621 144)
DIRECTIONS:
At the south end of the village of Crosby Ravensworth toward B6260, the fold is opposite the Methodist Chapel and beside the footpath to Bank Bridge.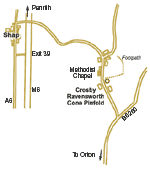 Click to enlarge map

All pinfolds are close to and can generally be seen from the road. Some are accessible to wheelchair users and those with visual impairment.