near Kirkby Stephen (NY 794 143)

DIRECTIONS:
The fold is in the grounds of Church Brough Primary school off A685 just south of Brough. The entry to the site is through a gate to right of school from the path that leads to the children's playground.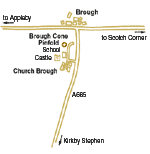 Click to enlarge map

All pinfolds are close to and can generally be seen from the road. Some are accessible to wheelchair users and those with visual impairment.