UNDERBARROW, MOUNTJOY FARM FOLDS


near Kendal (SD 460 931 & SD 460 932)

DIRECTIONS:
The site has two folds each containing a large boulder into which a mountain ash tree has been planted. At Underbarrow, between Kendal and Crossthwaite, take the road toward Crook for about 1 mile. The folds are south of Mountjoy Farm through a gate on the opposite side of the road. Walking up the slope, one fold is diagonally to the left, one to the right. The original tree growing in a rock is on the fell above.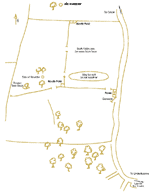 Click to enlarge map