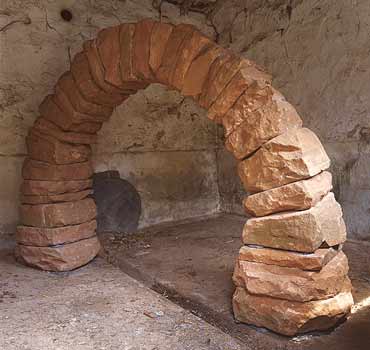 FROM COMMISSIONS MANAGER DICK CAPEL

Until the development of railways in the mid-nineteenth century Cumbria's geographical position made it an inevitable focus for herds of cattle and flocks of sheep travelling from Scotland to the industrial centres of Yorkshire and Lancashire. Regular drove routes were used and the main route can still be traced along roads via Carlisle, Penrith, Shap and Kirkby Lonsdale.
As part of the Sheepfolds project Andy Goldsworthy took a small red sandstone arch on a journey along that route constructing, dismantling and reconstructing it again at 22 locations, 11 of which related to derelict sheepfolds. Starting at Spango Farm in Dumfriesshire he worked with assistant Nigel Metcalfe over a period of 12 days in June 1997 and finished the journey at Tearnside near Kirkby Lonsdale. (The book about the journey 'Arch' is currently out of print)
Each of the 11 derelict folds has since been restored and the arch is now permanently housed in a specially built stone hut at Thornton in Lonsdale near Ingleton in North Yorkshire.
A twelfth sheepfold has been constructed adjoining the hut and dedicated to the memory of Toby Grimwood whose family and friends contributed substantially to the building costs together with Craven District Council and the Yorkshire Dales Millennium Trust.
The twelve Drove Arch sheepfold locations: -

Spango Farm, Nr. Sanquhar, Dumfriesshire.
NS 829 192
Thomas Armstrong's Yard, Longtown.
NY 377 689
Milestone House, near Penrith.
NY 503 324

Hanson's Shap Beck Quarry, north of Shap

.
NY 555 184
Thunderstone, east of Shap.
NY 582 155

Scout Green, Nr. Tebay.

NY 594 076
Grayrigg Common, east of Kendal.
SD 605 981
Lambrigg, west of Sedbergh.
SD 597 932
Wyndhammere, Old Town, Kirkby Lonsdale.
SD 597 847
Fellside, Hop House Lane, Kirkby Lonsdale.
SD 593 795

Tearnside, north of Fellside, Kirkby Lonsdale

.
SD 591 794
Toby's Fold and Drove Arch Hut
North of Thornton in Lonsdale, Nr.Ingleton.
SD 684 749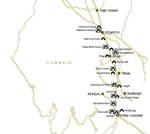 Click to enlarge map