BROUGH, DEADMAN GILL TOUCHSTONE FOLD



near Brough (NY 823 188)

DIRECTIONS:
From Brough off A66, follow B6276 toward Middleton-in-Teasdale. The fold is 3.5 miles along this road on the left by the bridge over Deadman Gill just before the Durham border. Andy Goldsworthy has built balanced river stone sculptures into three walls of this 'touchstone' fold.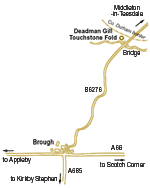 Click to enlarge map