DALTON-IN-FURNESS, SNOWBALL FOLD






near Barrow-in-Furness (SD225 737)

DIRECTIONS:
This 'pinfold' or 'pound' was the site of a temporary 'snowball' event by Andy Goldsworthy in 1999. A large snowball was placed in the fold and as it gradually melted it left traces of wool to mark its passing.
The fold is downhill from Dalton's main street on the old road to Barrow. It is sited on a small triangle of land called 'Goosegreen' and beside the Chequers Inn. Parking is possible very close to the pinfold which has a plaque on its gate explaining its history. It is also on the 'Cistercian Way'.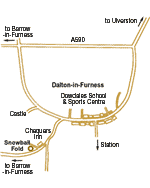 Click to enlarge map